Auteur:
Fergus, Maureen
Auteur:
Sookocheff, Carey
Editeur:
Groundwood Books
Publication:
2016
ISBN:
978-1-55498-715-3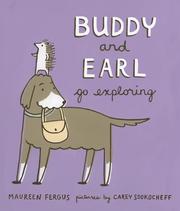 Buddy and Earl are safely tucked in for the night; Buddy on his blanket and Earl in his cage. But just as Buddy settles in for a nice, long sleep, Earl says it's time to say "Bon voyage."
Soon these mismatched pals are at it again, exploring the wilds of the kitchen and defending a lovely lady hedgehog — who may or may not be Mom's hairbrush — from imminent danger. When they've finally vanquished the greatest monster of all — the vacuum cleaner — it's time for some well-earned shut-eye.
This second book in the Buddy and Earl series reunites this odd and loveable animal couple: a dog who likes to play by the rules and a hedgehog who knows no limits.
Be sure to join them on their next adventure — Buddy and Earl and the Baby.
Voir toute la description
folders
Présent dans 0Dossiers publics
folders
Présent dans 0Dossiers privés
courseshelves
Commentaires